Center City Philly
Location
1400 John F Kennedy Blvd, Philadelphia, PA 19107
Have I Photographed Here?
Yes
About Center City Philly
Philadelphia is a very short 90-minute trip from the Lehigh Valley. If you are looking to explore a city environment with a lot of great architecture and facades, the possibilities are really endless in the city of brotherly love. If you are looking for some urban character in your backgrounds, Philly is great for engagement sessions as well as wedding pictures. If you are traveling around on your wedding day, especially if you have your entire wedding party with you, make sure to budget a lot of extra time for traffic and crowds. One of the benefits of taking pictures in Philly is that the buildings look the same all year round regardless of the season. Incorporating different facades in your pictures will look great even if you are shooting in the dead of winter.
City Hall/Broad Street
At the intersection of Broad (north-south) and Market (east-west) streets is Philadelphia City Hall. It is right in the heart of downtown and is actually the largest city hall in the country. At 548 feet, this is a great location for engagement and wedding pictures that have a big visual impact. The architecture is very ornate with a lot of decorative molding throughout. The walking areas have giant archways that offer stunning natural light to cascade through. The masonry has a beautiful warm tone to it and sets a classy mood for your pictures. No photography permit is required to take pictures here.
The south Broad Street entrance of city hall has a great point of view of the towering arched doorways as well as showing of the intricate design work throughout the interior of the building. While city hall is open to the public and there is a lot of foot traffic, with a little patience, getting a clean shot can certainly be done because of how large the building is. Not only can couples have their pictures here on their engagement or wedding day, but the entire wedding party can as well. All interiors of city hall are very spacious!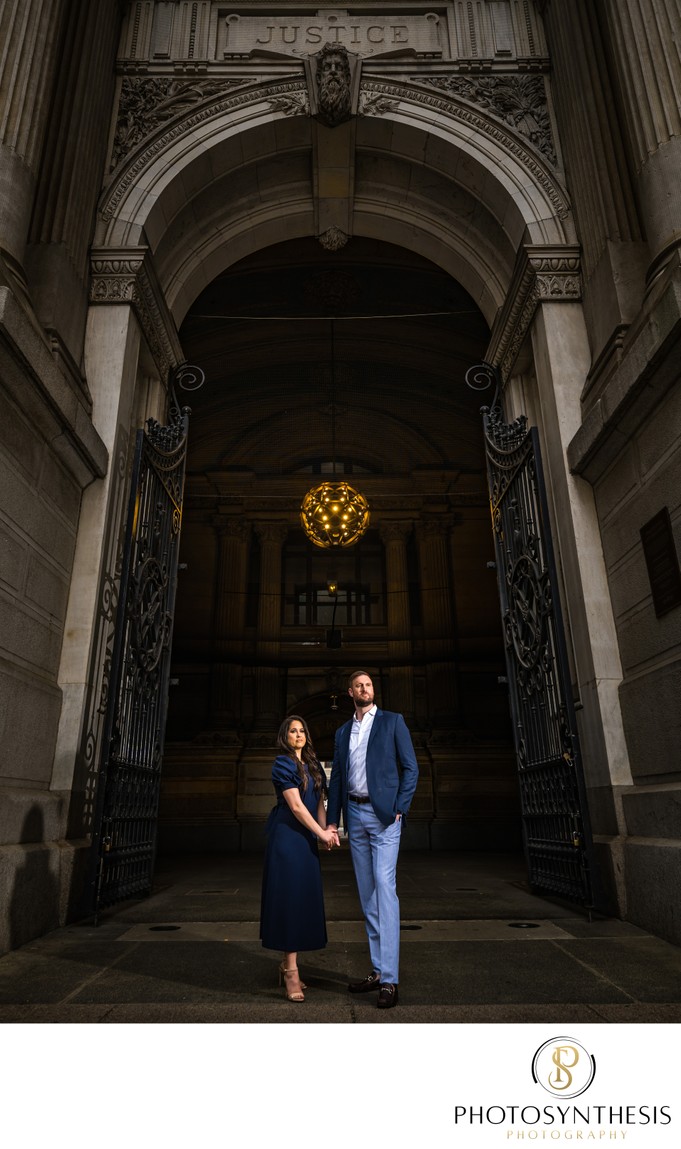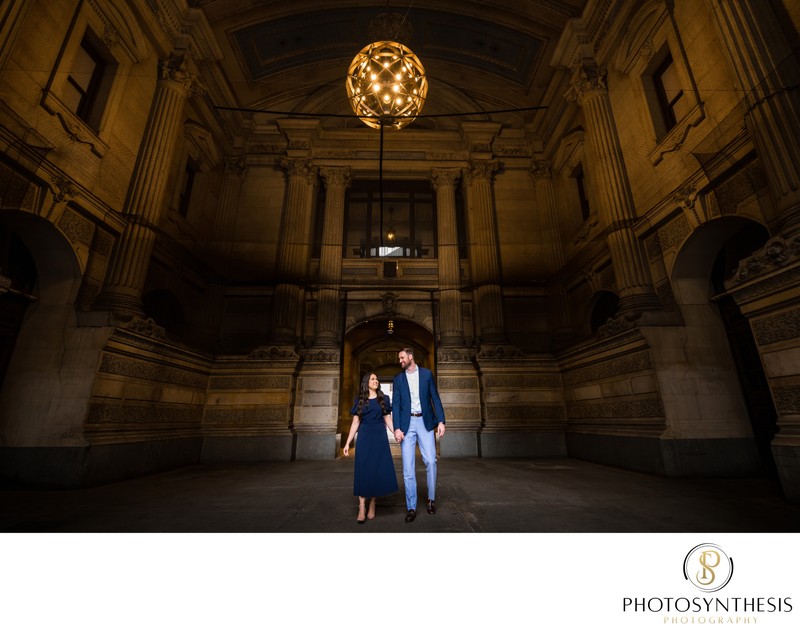 The east Market Street entrance of city hall has beautiful staircases and archways that are not in any other location in the building. Having steps in your pictures can create a different look as well as accommodate people of different heights so they are a little closer together.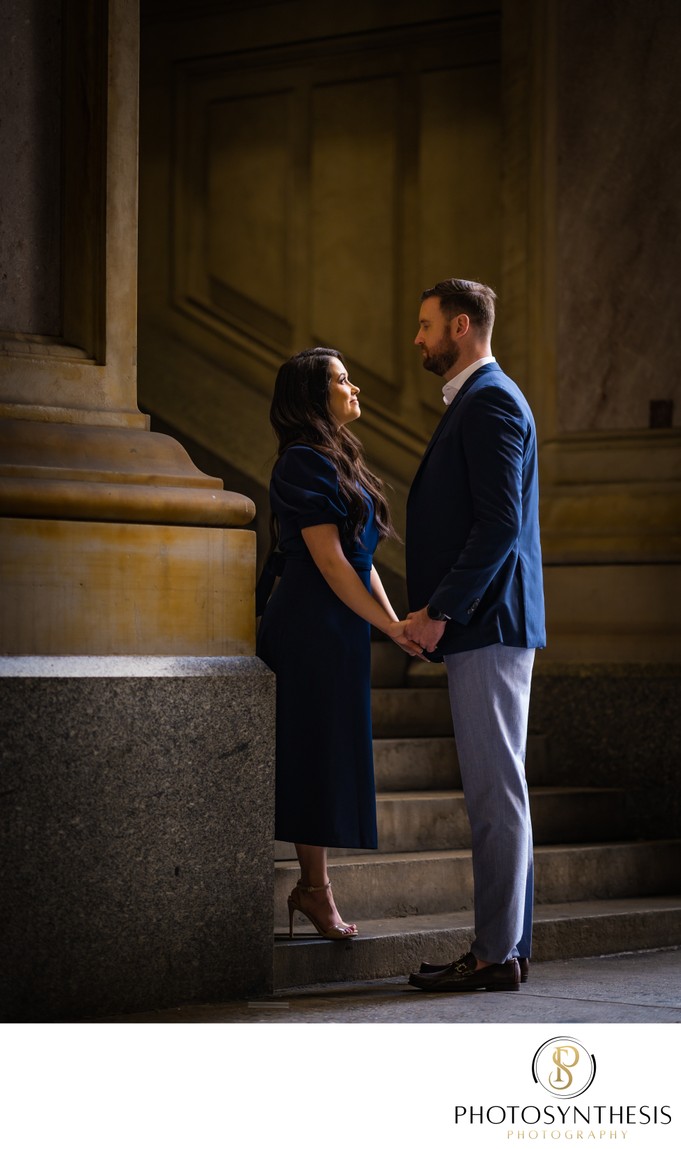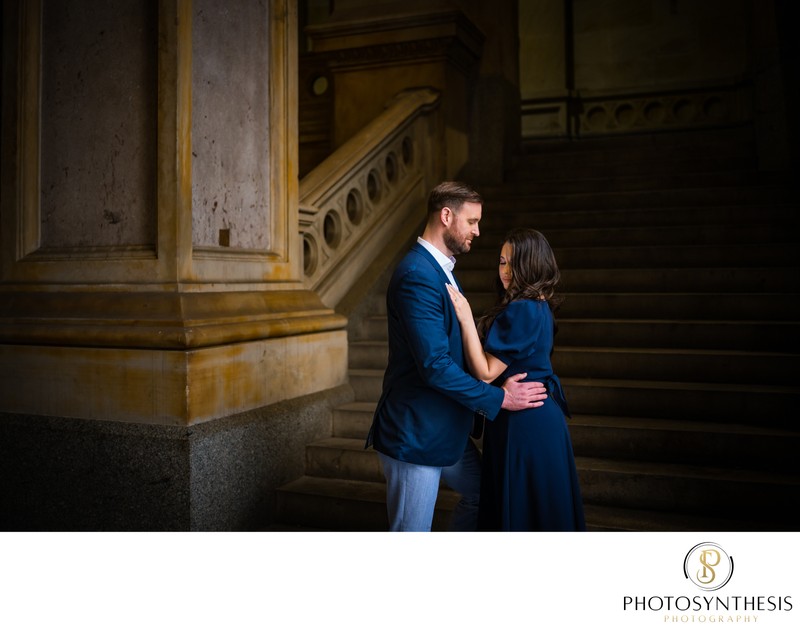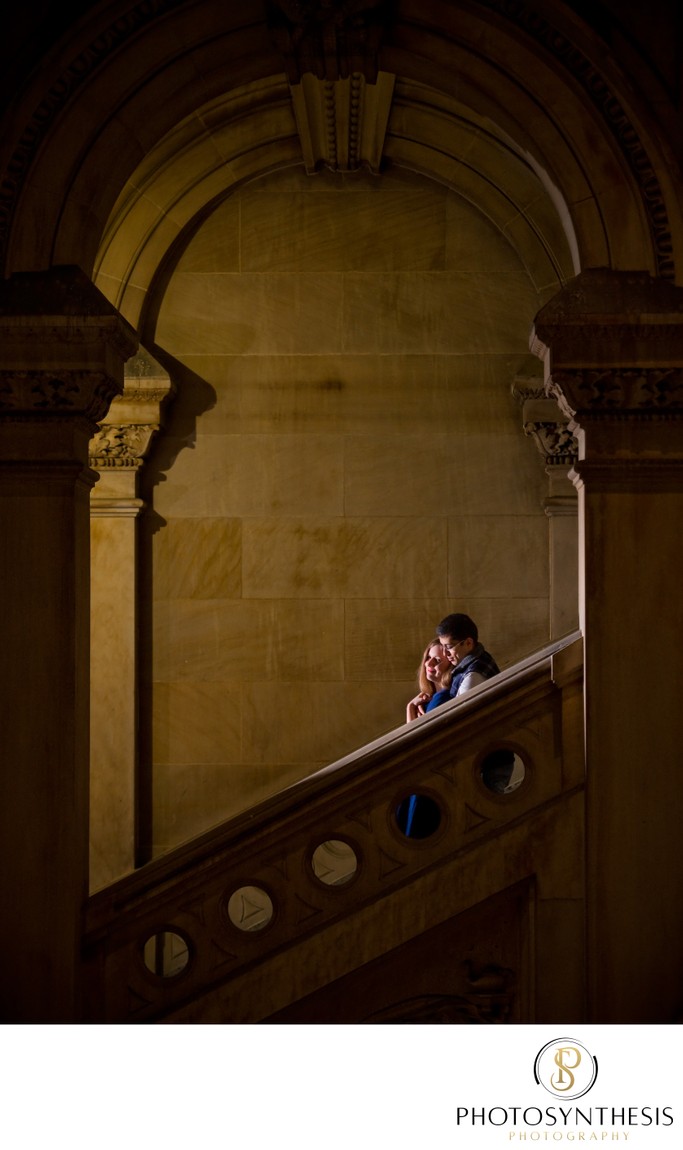 The west entrance to city hall has a great view down Market Street from the inside looking out. When the sky is just right you can also get some color in the western sky during sunset. Outside of this entrance is a fantastic view of the whole building including the William Penn statue and clock tower. There are usually a lot of people walking around in this area preoccupied on their phones or running late to wherever they are going. Photographing a stoic couple together is an interesting contrast to all of that "hustle and bustle" and so, for this location, I like to include other people in the background. There is also plenty of room here for pictures of the entire wedding party.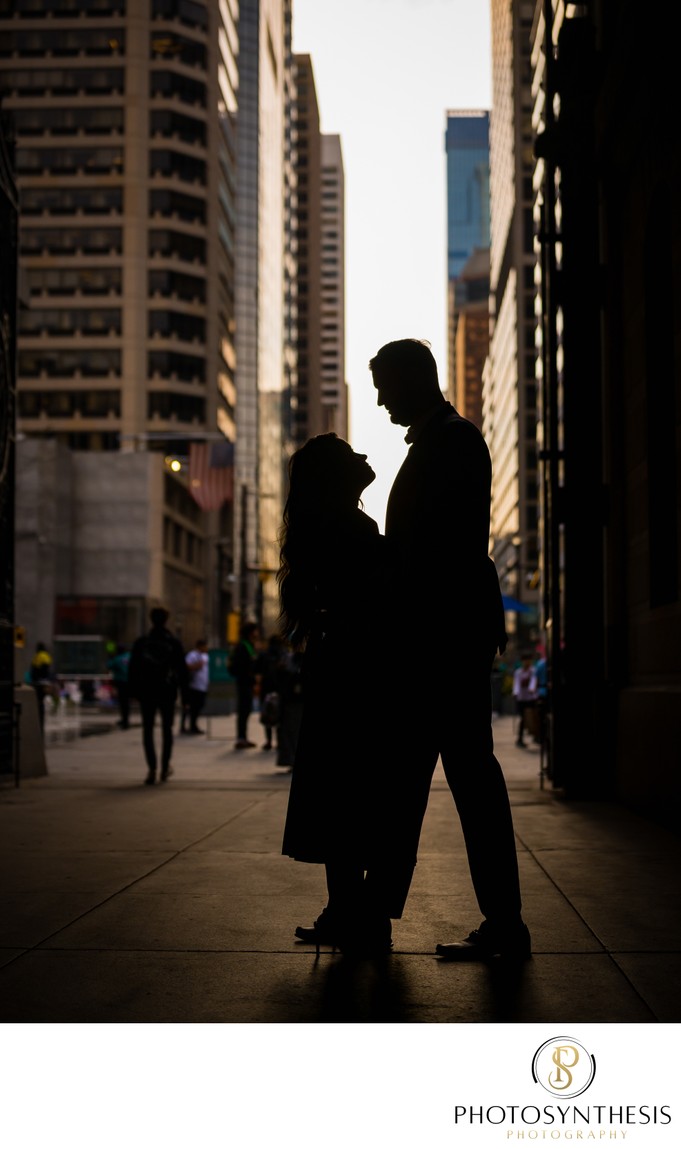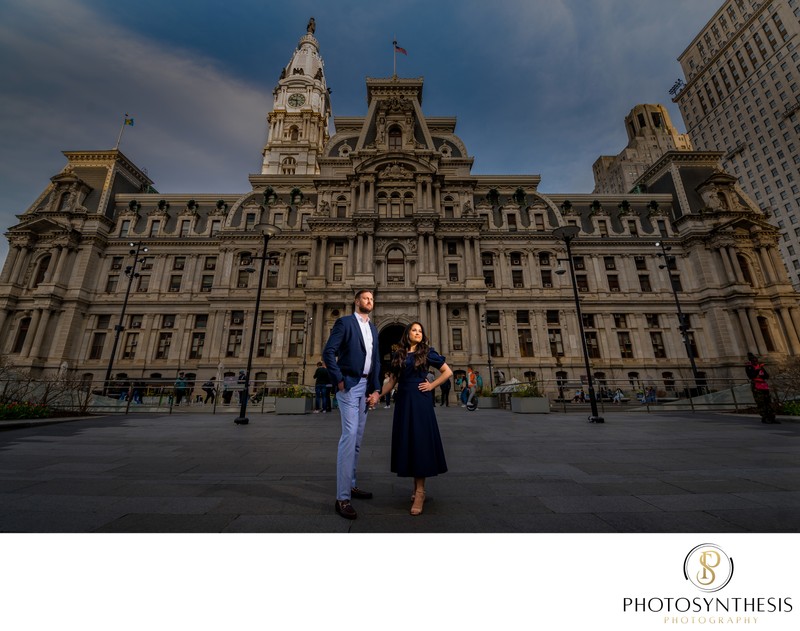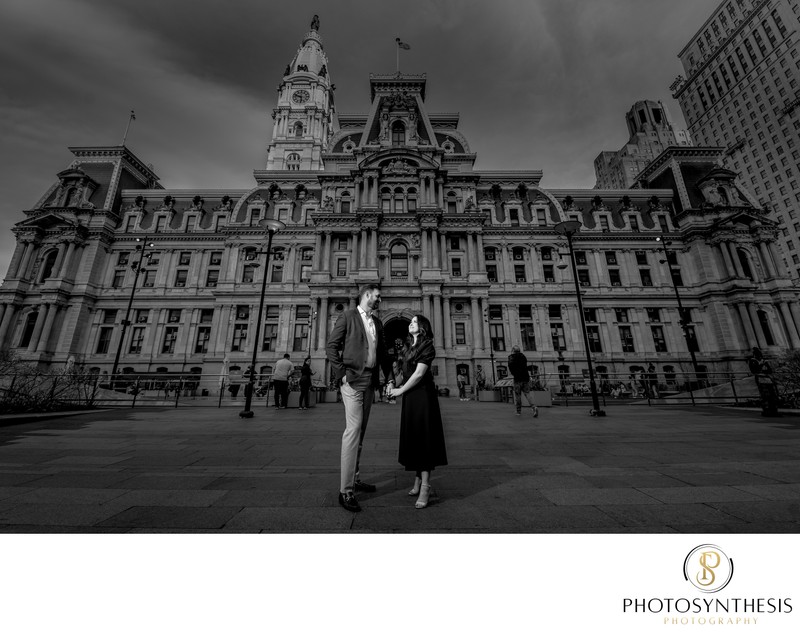 Another great view of the William Penn statue and clock tower is farther south on Broad Street. I recommend walking to Locust or Spruce Street for this. If you are too close to city hall you won't be able to see it in its entirety. There are narrow dividers in the middle of Broad Street that a couple can stand on during their engagement or wedding pictures. There is not enough room for the whole wedding party at this location.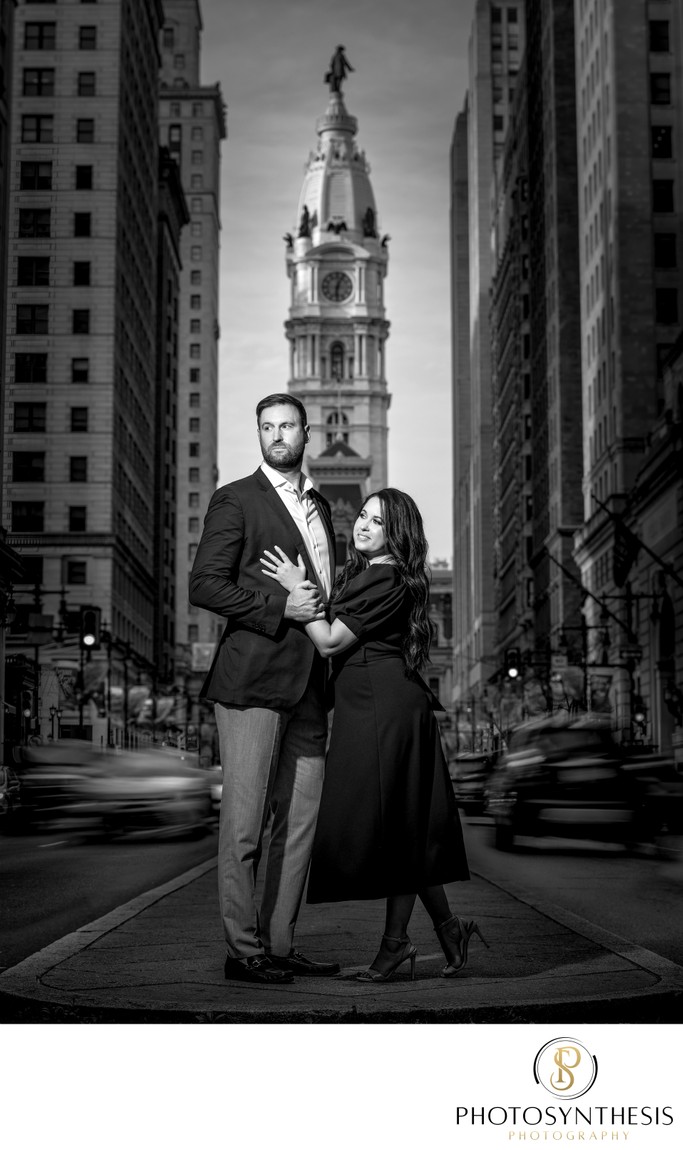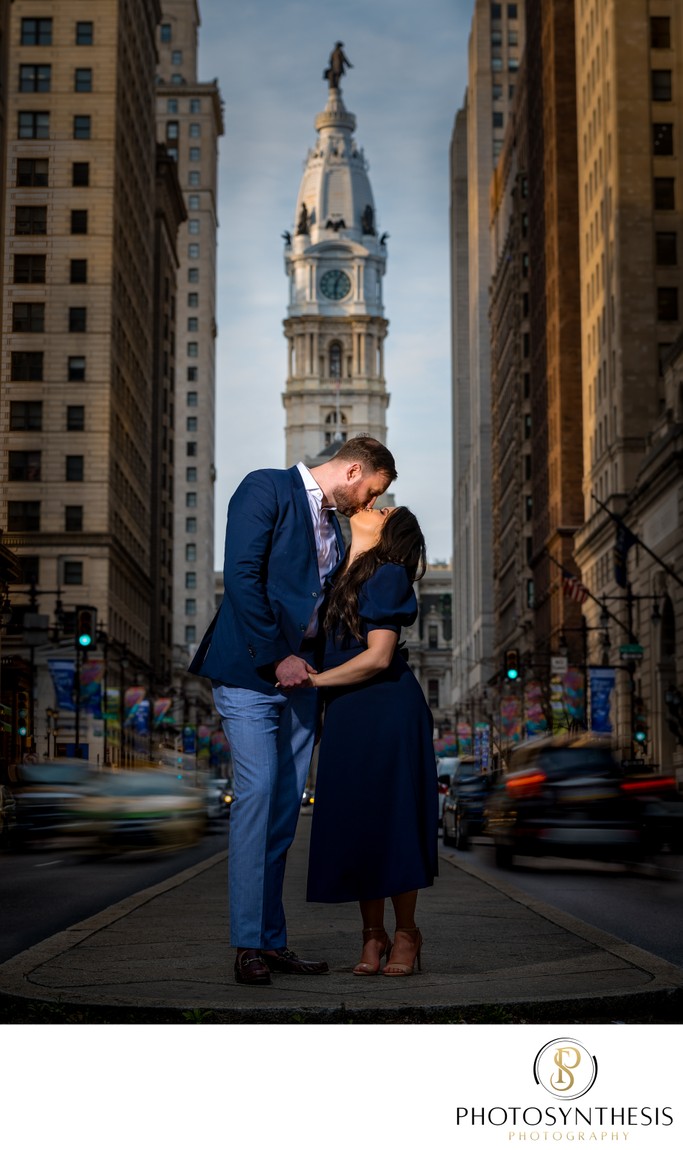 Here are some tips for having your engagement session and wedding pictures taken in Center City Philly.
Unfortunately, sometimes the gates to city hall are closed however there are still locations to shoot on the exterior of the building.
The best time to take pictures here are in the couple hours before sunset.
Mondays though Thursdays are less crowded than the weekends.
Make sure to wear comfortable shoes for walking that you can change out of for your pictures.
Bring water.
Bring sunscreen.
Bring a backpack so that you can have your photography shoes in them along with your other supplies.